AUGUST 2023
REMEMBERING SHAMEKA "MECA" ELIZABETH COLE
Statement by Executive Director Josayne Anderson Tejera
We recently learned our friend and collaborator, Poughkeepsie native and veteran director Meca Cole of Cali Productions, was called home. She was talented and had a distinguishing career working with a long list of celebrities, recording artists, and entrepreneurs.
The Love Quest Foundation community is saddened to learn of her passing. We are grateful we had the opportunity to team up with her on our video music projects. She was lead director on our first video campaign, "I'm Taking Off," and also worked on the pre-production of our most recent video, "Distractions".
Meca came back to the community where she grew up and she gave back. She passed on her knowledge and skills to our local youth, inspired them, and helped many of them validate production as their career choice.
She left an incredible legacy. And her legacy will continue to live on.
Rest in peace, Meca.
APRIL 2023
Love Quest Foundation's Seeds of Love Event in Honor of Earth Day 2023
Northeast farmers of color share experiences with youth and teach farming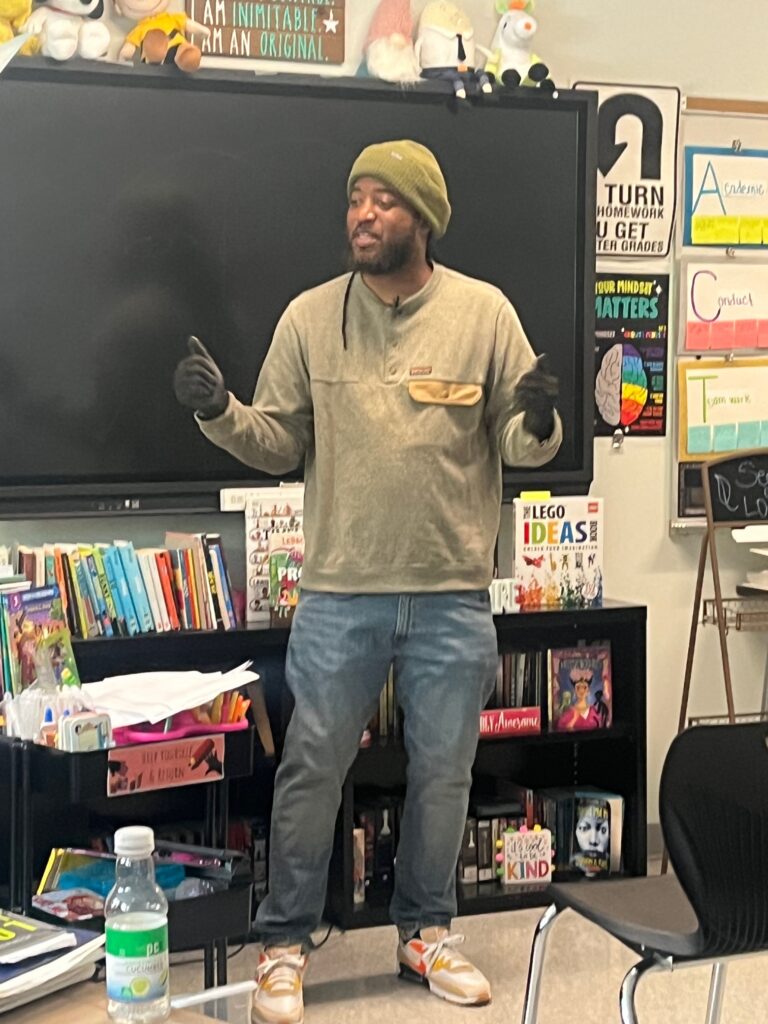 In keeping with Earth Day 2023's call for action to invest in our planet, the Love Quest Foundation brought community youth together to learn about the importance of farming. Its Seeds of Love event in April was led by Hector Gerardo and Elizabeth Guerra — co-founders of SEAmarron Farmstead and E&G Community Builders in Danbury, Connecticut. Gerardo is also a board member of the Northeast Organic Farming Association of Connecticut whose mission is ensuring the growth and viability of organic agriculture, food, and land care.
Northeast farmers Gerardo and Guerra are improving access to fresh food in Connecticut's cities through urban farms, community gardens, and educational programs and giving the next generation of activist farmers the tools they need to pick up the mantle. Youth were given a mini planter, seeds, compost, and a bottle of water to put what they were learning about farming into practice.
"Blacks were chief farmers during the Antebellum South but today account for only two percent of agricultural land in the United States," Gerardo said. "It appears slavery caused us to lose our historical relationship to farming."
According to the U.S. Department of Agriculture, fewer than 49,000 producers identified as black account for less than two percent of the nation's 3.4 million producers and are located primarily in Texas and the Midwest. And Black-operated farms, like U.S. farms in general, have declined 3 percent between 2012 and 2017.
Citing that nearly 25% of Blacks experienced food insecurity during the pandemic, they also work to ensure community access to sufficient, healthy food. Guerra added: "Our mission is addressing the high rates of food insecurity in the Black community and returning more young people of color to their agricultural roots."
"I am grateful to Hector and Elizabeth for making us aware of this important issue and for sharing their knowledge with us and inspiring young people to invest not only in their communities, but also in their planet through farming," Love Quest Executive Director Josayne Anderson-Tejera said.
The Love Quest Foundation is a non-profit organization whose mission is inspiring young people impacted by teen dating violence and sexual assault to build strong relationships and learn to advocate for themselves.
The Seeds of Love event was sponsored by the Candreva Environmental Foundation Grant. The Candreva Environmental Foundation is a New York state based organization providing seed money for local environmental education initiatives and projects that engage young people in environmental service.
2022
Executive Director Anderson-Tejera Featured One of 12 "Wonder Women" in the Hudson Valley Region
Love Quest Offers Free Summer Workshop Series
The Love Quest Foundation's six-week Free Summer Workshop Series ran from Monday, July 11 through Friday, August 19, 2022 for youth ages 11-18 interested in creative writing, journaling, and music production. Activities took place from 10 a.m. until 2 p.m. Monday through Friday at the Family Partnership Center in Poughkeepsie and were paid in part by the following sponsors:
---
The Love Quest Foundation Participates in Hudson Valley Gives
On Wednesday, May 18, 2022, Love Quest participated in Hudson Valley Gives — a fundraising event for charities and non-profits in the Hudson Valley region of New York State.
Thanks to those of you who made a donation and joined us in helping break the silence surrounding intimate partner and teen dating violence, domestic abuse and sexual assault.
---
WALL Radio Host Kate Brennan Interviews Love Quest Founder Josayne Anderson-Tejera
WALL Radio host Kate Brennan wanted to know more about the organization. Check out the interview!
---
University of Hartford Spotlights Love Quest Executive Director Anderson-Tejera
University of Hartford alumni and Love Quest Founder and Executive Director Josayne Anderson-Tejera, was spotlighted by the educational institution.
---
Love Quest Executive Director named Community Changemaker
March 30, 2022
Executive Director Josayne Anderson-Tejera was interviewed by The Art Effect Spark Studios for the Scenic Hudson's Community Changemaker series. She talks about the organization's mission, vision, and why she founded The Love Quest Foundation.
---
Anderson-Tejera selected as February 2022 LAMIK Lady
February 13, 2022
Love Quest Foundation Executive Director Josayne Anderson-Tejera was selected as February's LAMIK Lady. LAMIK Beauty is a vegan makeup line made with natural and organic ingredients for multicultural women. Read her interview
---
Love Quest Foundation, Inc. Receives $20,000 Dutchess County's Learn, Play, Create: Supporting Our Kids Grant
November 1, 2021
The Love Quest Foundation, Inc. was awarded $20,000 in Dutchess Invests funding as part of the County's Learn, Play, Create: Supporting Our Kids grant program. The Fishkill, New York non-profit advocates to eliminate the stigma, statistics and silence surrounding domestic violence, dating violence, and sexual assault impacting teens. It was one of 13 non-profits to receive the awards, totaling $279,500.
The Love Quest Foundation will use the grant to purchase audio-visual equipment for its annual music campaign, and to develop pop-up workshops that heighten awareness about and provide prevention resources against abuse and domestic violence.
"Music is a universal love language," said Founder and Executive Director Josayne Anderson-Tejera. "Our music campaigns give young people opportunities to creatively express themselves, tell their stories, and offer commentary on issues they feel are important. Our workshops teach young people how to identify and sustain healthy, successful friendships and relationships. We are truly grateful for this grant, which will enable us to reach more youth and touch even more lives."
According to Dutchess County Executive Molinaro's press release, Dutchess Invests directs $57 million in one-time funding through the federal government's American Rescue Plan (ARP) to communities recognized as priorities. The Learn, Play, Create grant program provides $3 million in one-time grants to local non-profit youth organizations arts, libraries and athletics that were deprived of a year of fundraising or participation due to the COVID-19 pandemic.
"…Dutchess County is proud to offer Learn, Play, Create as a way to help our kids get back some of what the pandemic stole from them," said County Executive Molinaro. "The investments we make in our kids today not only help them overcome recent losses, but ensure their development continues, helping them grow into successful young adults. Together, Dutchess County will continue making a real impact in our children's lives and invest in our future." [Read the full Dutchess County press release]
###