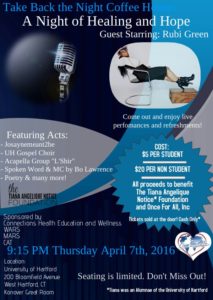 Annual Benefit Concert in NYC…Alumni edition 10/12/19 Tentative date
HBCU Legacy Week on Martha's Vineyard, 7/21/19… Music CD Vendor
Women of Excellence Luncheon @The Villa Borghese Banquet Hall ft. The Love Quest Music CD's & Miss Jessie's Hair Products Swag Bags, 5/4/19 10:00 AM.
The Love Quest Foundation Panera Bread Fundraiser 4/25/19, Fishkill, NY.
Take Back the Night Silent March & Speak Out (participated) @The University of Hartford 4/4/19…#Alumniedition
March 14, 2019, Annual Women in Corrections @Poughkeepsie Grand featuring The Love Quest CD's & SOUL Makeover Candles (vendor)..
March 23, 2018, Annual Women in Corrections @Eastern QWL
2018/2019 Take Back the Night EP Available on iTunes @Josaynmeant2be
Josaynemeant2be c/o Once For All Inc at the 29th Annual NYS Minorities in Criminal Justice Symposium: 9/23/15-9/25/15.
April 2016-University of Hartford: WARS (Women Against Rape and Sexual Assault) & MARS (Men Against Rape and Sexual Assault) Annual Presentation. http://unotes.hartford.edu/announcements/2016/03/2016-03-23-take-back-the-night.aspx
October 25, 2015-Annual EP Release event
More Dates to Come.